Corporate Profile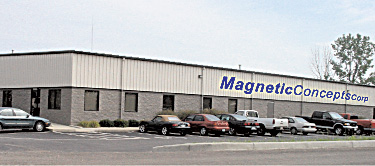 Name:   Magnetic Concepts Corp.
Established:   1989
Origin:   Magnetic Concepts Corp. is one of two companies under the umbrella of Covert Industries, Inc. which was founded in 1978. The sister firm is Shelf Tag Supply.
Affiliations:  Digital Printing & Imaging Association, Northwest Lean Manufacturing Network, Material handling Industry of America, National Federation of Independent Businesses, various national and state Chambers of Commerce
Headquarters:   611 3rd Avenue SW Carmel, IN 46032
Telephone:   (800) 334-4245  or (317) 580-4020
Fax:   (317) 580-4024
Email:  Contact Us
Profile:  Started as a company selling magnetic scheduling and visual control boards.  Today the company serves a broad spectrum of industries and government departments with over 20 product lines including plain, lined, gridded and custom color printed magnetic whiteboards, magnetic accessories, and whiteboard supplies.  These product offerings help organizations plan, schedule and better manage the activities throughout their operations.  Finished goods are shipped directly from our 30,000 square foot manufacturing plant in central Indiana.
Federal Tax ID #:  35-175-4411
GSA Contract #:  GS-28F-0007Y
DUNS #:  60-407-6943
SIC:  2522