Back
Whiteboard & Shelf Combination Kits
Made-to-order roll-around magnetic whiteboard with writing shelf
Caption goes here.

Whiteboard & Shelf Combination Kits
Made-to-order roll-around magnetic whiteboard with writing shelf
Our roll-around whiteboard with shelf system is custom designed with your own board content
Schedule production, track lean progress, record safety measures, communicate training info, or whatever you need to display  
The industrial frame is a high strength aluminum alloy designed for manufacturing facilities, shop floors, work cells and other industrial settings. 
The movable whiteboard includes a convenient, sturdy writing shelf. 
Includes FREE Supply Kit - see Detailed Description below
Sizes & Pricing
Step 2:
Select Part # to Continue
Step 2:
Select Option to Continue
Board Size H' x W'
Ships Via
Unit with Kit
Part #
Price
3' x 3'
Truck
54552
$1,254.53
3' x 4'
Truck
54572
$1,419.43
4' x 5'
Truck
54782
$1,845.67
4' x 6'
Truck
54792
$1,972.52
Board Size H' x W'
Ships Via
Unit with Kit
Part #
Price
3' x 3'
Truck
54553
$1,254.53
3' x 4'
Truck
54573
$1,419.43
4' x 5'
Truck
54783
$1,845.67
4' x 6'
Truck
54793
$1,972.52
Board Size H' x W'
Ships Via
Unit with Kit
Part #
Price
3' x 3'
Truck
54551
$1,140.36
3' x 4'
Truck
54571
$1,267.21
4' x 5'
Truck
54781
$1,591.97
4' x 6'
Truck
54791
$1,668.08
* The prices above assume you provide a compatible computer file. If you would
like us to prepare a file from your sketch or if your file requires conversion or some
modification, there will be a one-time preparation fee of $50-100 based on the
complexity.
Additional Information
Popular uses
Popular uses for this whiteboard with shelf system include: progress tracking measurements, calendars, training sessions, planning meetings, and more
As a roll-around, there are two display sides and it can be constructed in any combination of custom whiteboard, plain whiteboard, or bulletin board
Over laminated for a clear, sealed, stain and scratch resistant, dry-erase compatible surface in a very sturdy, aluminum frame 
The two sided unit is available in three styles:     

Side 1: Custom whiteboard + Side 2: Plain whiteboard     

Side 1: Custom whiteboard + Side 2: Bulletin board     

Side 1: Plain whiteboard + Side 2: Plain whiteboard 

We can scan images or use your graphics file - charts, graphs, work areas, product pictures, floor plans, and many other functional designs 
Dry-erase surface is magnetic for convenient use of magnetic letters/numbers, symbols, and card holders 
For custom design or process questions, contact Customer Service 
Our movable whiteboard system includes a FREE kit of whiteboard supplies:   

4 Dry-Erase Markers - fine point red, blue, green, black 

Rolling Assembly Hardware
Tech Specs
Roll-Around Frame Construction 
Includes a full length, sturdy, built-in whiteboard tray for convenient updating of paperwork

Whiteboard tray has two cup style holders for markers, board cleaner and other supplies 

Whiteboard construction is 0.022" coated sheet of solid steel laminated onto a rigid 1/4" hardboard foundation 
Service temperature range = -10F to +160F 
This movable whiteboard is meant for indoor use  
Class C Fire rated 
Aluminum frame: 

High strength, satin anodized aluminum alloy in an industry standard 45mm square with 10mmT-slot design Locking caster sets are load rated to support at least double the weight of the board assembly for ease of rolling and safety
Whiteboard with Shelf Options
Rugged, floor mounted style replaces casters on frame feet for a more permanent use, no extra charge - see picture, contact Customer Service 
Wall mount style (without roll-around and writing shelf) - see Custom Whiteboards 
Other sizes and configurations - contact Customer Service for more information
Lining tape, adhesive letter/number sets, markers - see Whiteboard Supplies
Magnetic eraser, letters, numbers, symbols, clips - see Other Magnetic Accessories
CUSTOM DESIGN FILE SUBMISSION NOTES: 
Compatibility - email your board design file to us to check it for compatibility.
File Preparation - supply your PC file in a TIF or EPS format sized to 1" less than actual height and width. We are able to convert Corel Draw, Adobe Illustrator and Photoshop, Autocad, Excel, Powerpoint, Macintosh, and other similar file programs. Supply printed proof of file with fonts or store text as curves. Bitmap files (.tif, .bmp, .pcx) should have resolutions of 100 dpi at full panel size dimensions.

   Rugged, floor
mounted style
Sample Whiteboard Plus Shelf Designs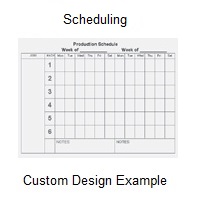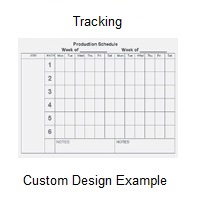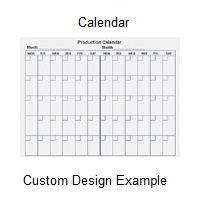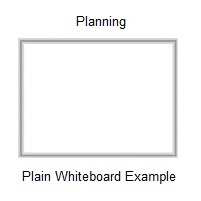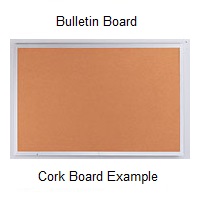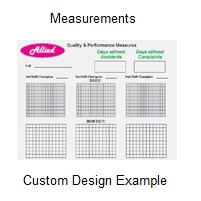 Back
Sizes & Pricing
Step 3:
Select Part # to continue
Back to sizes