Back
Cardio Equipment Sign-up Whiteboard
Reserve time for specific equipment on a dry erase whiteboard
Caption goes here.



Cardio Equipment Sign-up Whiteboard
Reserve time for specific equipment on a dry erase whiteboard
Exercise equipment reservation system operates on a first come-first serve basis 
Reduce conflicts with fitness equipment use due to "hogging" or non-productive use 
Helps exercisers better organize their aerobic or training workout routine 
Write cardio equipment types on yellow magnets, move on board to accommodate adequate number of sign-up lines for each machine: treadmills, ellipticals, rowers, stationary bikes, arm cycles, stairmasters, steppers, recumbents - your choices 
Exercisers simply write their name next to the desired time slot interval 
This equipment booking board includes a FREE Supply Kit - see Detailed Description below
NOTE: Aluminum frame is standard.  For a limited time, choose wood frame at checkout, in 4 color options, at no additional cost.
Sizes & Pricing
Additional Information
Detailed Description
Select the equipment booking board size to handle the maximum number of equipment pieces available 
Use our Damp-Erase Pen to write equipment names on 1"x8" yellow Magnets 
Use our Dry-Erase Markers for exercisers to write in their times and names 
Customize your equipment booking board for your gym or cardio rehab unit 
This equipment reservation system includes a FREE kit of whiteboard supplies:

8 yellow 1"x8" Write-on/Wipe-off Magnets - sub-heads for equipment types 
Dry-Erase Markers - 4 black fine point - write in times and names 
Magnetic Penholder 
2 Damp-Erase Pens - write equipment types on yellow magnets 
Magnetic Eraser 
Hanging Hardware
Tech Specs
High quality magnetic whiteboard in an aluminum frame 
Intense heat permanently fuses your color graphics design with a sheet of solid steel to produce a highly durable, brilliant, dry-erase magnetic surface 
Our process produces a sturdy three-layer construction - the steel is laminated onto a rigid engineered wood foundation and backed with a sheet of aluminum foil as a protective moisture barrier 
WILL NOT STAIN, FADE, SHADOW OR CRACK 
No surface blemishes that are commonly seen on inferior whiteboards 
Our Polymer Fusion™ Process creates a long lasting, custom magnetic surface 
Maintains its "like new" appearance throughout years and years of daily use 
This specialized process produces the most durable of any color printed whiteboard surface available in the market today! 
Construction is 0.022" coated sheet of solid steel laminated onto a rigid 3/8" MDF engineered wood foundation 
Service temperature range = -10F to +160F 
For indoor use 
Class C Fire rated 
Aluminum frame: Satin anodized extrusion of 6063 Aluminum-Magnesium-Silicon alloy which is extremely resistant to cracking and corrosion, framed board weighs 2.7 lbs per square foot, depth from board surface face to wall = 9/16" (14.3 mm) 
Wood frame: color stained and sealed ash, framed board weighs 3.1 lbs per square foot, depth from board surface face to wall = 15/16" (23.8 mm)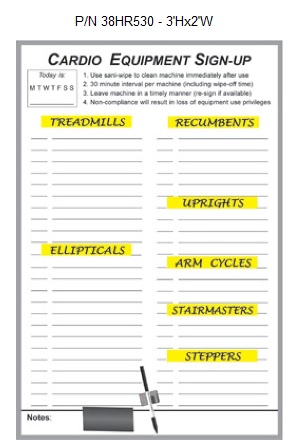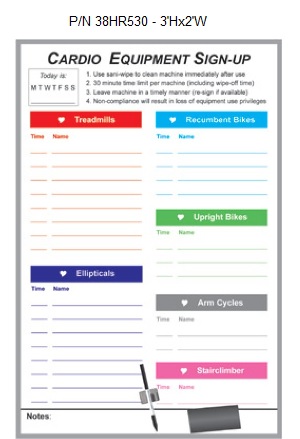 Options
FREE DESIGN CUSTOMIZATION to your specs
These equipment reservation systems are available in various sizes - select the board size to handle the maximum number of exercise equipment pieces available
Select the accent color(s) or add a logo or name of your department or gym
We create the board to provide the optimal time management use of all your equipment - simply tell us (call, email or fax) what you would like when you order
Replace yellow magnets with permanently printed equipment sub-heads (as shown in Alternative Design picture above) - you determine how many names you need for each type of equipment - contact Customer Service with your specs
Whiteboard cleaner, letter/number sets, markers - see Whiteboard Supplies
Magnetic indicator symbols, magnetic chalktray - see Other Magnetic Accessories
Additional sizes and custom designs - contact Customer Service for quote
Back
Sizes & Pricing
Step 2:
Select Part # to continue
Max. # of Equipment
24
Board Size H' x W'
2' x 1-1/2'
Ships Via
UPS
Board with Kit
Part #
38HR320
Price/Ea
$265.10
Max. # of Equipment
48
Board Size H' x W'
3' x 2'
Ships Via
UPS
Board with Kit
Part #
38HR530
Price/Ea
$391.95
Max. # of Equipment
72
Board Size H' x W'
3' x 3'
Ships Via
UPS
Board with Kit
Part #
38HR550
Price/Ea
$531.48
Back to sizes