Back
Full Year Calendar Whiteboard
Plan and schedule with markers, magnets and card holders on a full year calendar whiteboard
Caption goes here.





Full Year Calendar Whiteboard
Plan and schedule with markers, magnets and card holders on a full year calendar whiteboard
The ultimate scheduling and planning tool for the entire year 
Long lasting, high quality, dry erase 12 month calendar whiteboard
Communicate schedule dates in just a glance! 
Flexible - re-arrange schedules by simply moving magnets Ideal for longer range scheduling functions such as: 

Production objectives
Facility planning
Personnel assignments
Maintenance dates
Project progress 
Other planned actions

Includes FREE Supply Kit - see Detailed Description below
NOTE: Aluminum frame is standard.  For a limited time, choose wood frame at checkout, in 4 color options, at no additional cost.
Sizes & Pricing
Step 1:
Select Part # to Continue
Step 1:
Select Option to Continue
Note: All Full Year Calendar Whiteboards shipped via truck

* Price includes a Supply Kit of useful accessories
** Both 1/2"x2" and 1"x2" sizes included
Additional Information
Detailed Description
12 Month Whiteboard Calendar Description:

Yearly calendar dry erase board includes hidden hanger slots on back 
Choice of Write-on/Wipe-off Magnets or Magnetic Card Holders with Datacards 
Two magnet or card holders sizes supplied with each kit: 

(1) 1/2"x2" to mark 3 events per day on a 4'x3' board and 7 events on a 4'x6' board 

Easy to plan and update 
Sketch in future dates and activities with Dry-Erase Markers while you evaluate various alternatives and plans 
 When a need for detailed scheduling arrives, simply put the data on magnets and place them on the yearly calendar dry erase board
Any re-scheduling is as easy as moving a magnet on your 12 month whiteboard calendar
The board kit is available in two formats: 

1) the larger 4'x6' board (shown above) is organized with 12 months of rows and 31 days of columns 
2) the smaller 4'x3' board (shown below) which has 12 months of columns of 31 days of rows 

This 12 month dry erase calendar includes a FREE kit of whiteboard supplies: 

Dry-Erase Markers - fine and wide points in red, blue, green, black
Magnetic Eraser 
Magnetic Chalktray 
1" Magnetic Date Set - headers for 12 months (JAN-DEC) of rows and 31 days (1-31) of columns 
10 Magnetic 7/8" Stars - 5 red, 5 green 
Hanging Hardware 
Magnet style: 1/2"x2" and 1"x2" Write-on/Wipe-off Magnets in white, yellow, orange and silver and Magnet Marking Pens OR 
Card Holder style: 1/2"x2" and 1"x2" Magnetic Card Holders and Datacards - 10 cards per card holder in white, yellow, lime, blue and salmon
P/N 32795 - 4'Hx6'W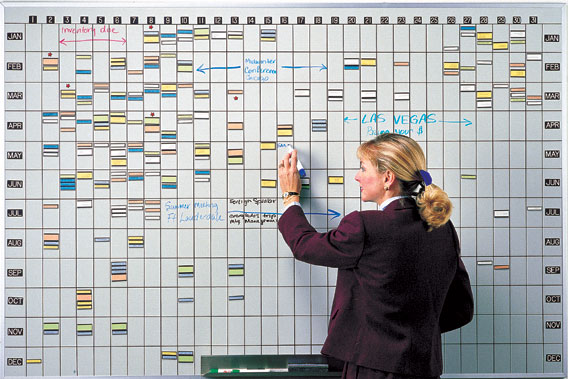 P/N 32750 - 4'Hx3'W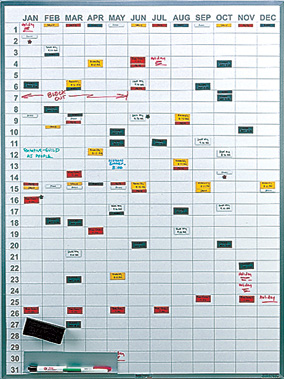 calendar magnets

calendar card holders

Tech Specs
Magnetic 12 month dry erase calendar features color graphics in an aluminum frame 
Intense heat permanently fuses your color graphics design with a sheet of solid steel to produce a highly durable, brilliant, dry-erase magnetic surface 
Our process produces a sturdy three-layer construction - the steel is laminated onto a rigid engineered wood foundation and backed with a sheet of aluminum foil as a protective moisture barrier 
WILL NOT STAIN, FADE, SHADOW OR CRACK 
No surface blemishes that are commonly seen on inferior whiteboards 
Our Polymer Fusion™ Process creates a long lasting, custom magnetic surface 
Maintains its "like new" appearance throughout years and years of daily use 
This specialized process produces the most durable of any color printed whiteboard surface available in the market today! 
Construction is 0.022" coated sheet of solid steel laminated onto a rigid 3/8" MDF engineered wood foundation 
Service temperature range = -10F to +160F 
For indoor use 
Class C Fire rated 
Aluminum frame: Satin anodized extrusion of 6063 Aluminum-Magnesium-Silicon alloy which is extremely resistant to cracking and corrosion, framed board weighs 2.7 lbs per square foot, depth from board surface face to wall = 9/16" (14.3 mm) 
Wood frame: color stained and sealed ash, framed board weighs 3.1 lbs per square foot, depth from board surface face to wall = 15/16" (23.8 mm)
Yearly Calendar Dry Erase Board Options
Wood frames in cherry, walnut, natural oak and black finishes - add 20% to board price 
Custom sizes, graphics and designs - contact Customer Service for quote 
Lining tape, letter/number sets, additional markers - see Whiteboard Supplies
Additional magnets, card holders, clips - see Magnetic Accessories
Back
Sizes & Pricing
Step 2:
Select Part # to continue
Board Size H' x W'
4' x 3'
Events Per Day
1-3
# of Magnets or Card Holders Included *
300
Size Magnets or Holders H" x W"
1/2" x 2" & 1" x 2"
System with Magnets
Part #
32750
Price/Ea
$665.96
System with Card Holders
Part #
32755
Price/Ea
$683.70
Back to sizes