Back
Status Indicator Whiteboards
Sliding color signals display quick visual updates on a dry erase job status board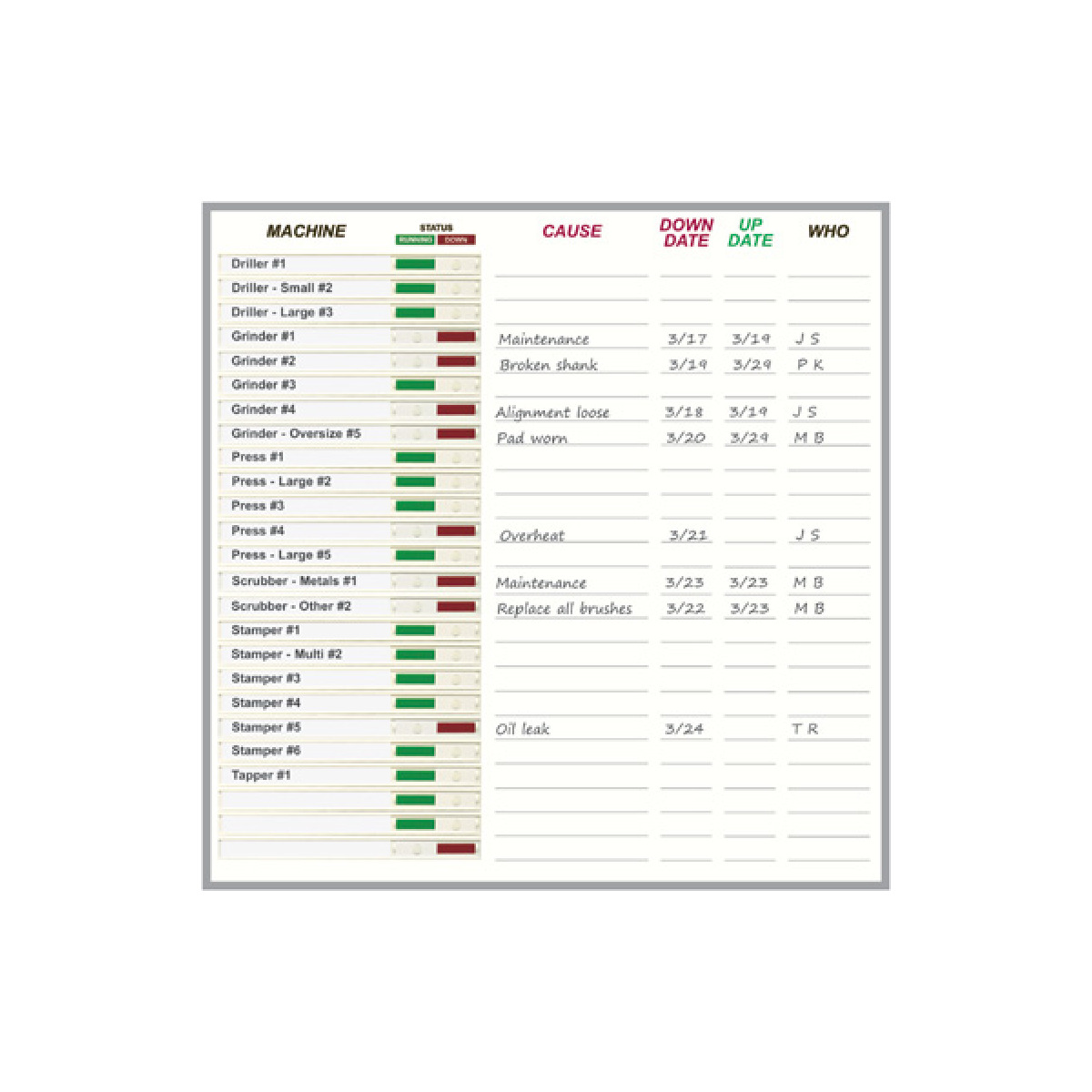 Pictured: P/N 38ZM550 - 3'H x 3'W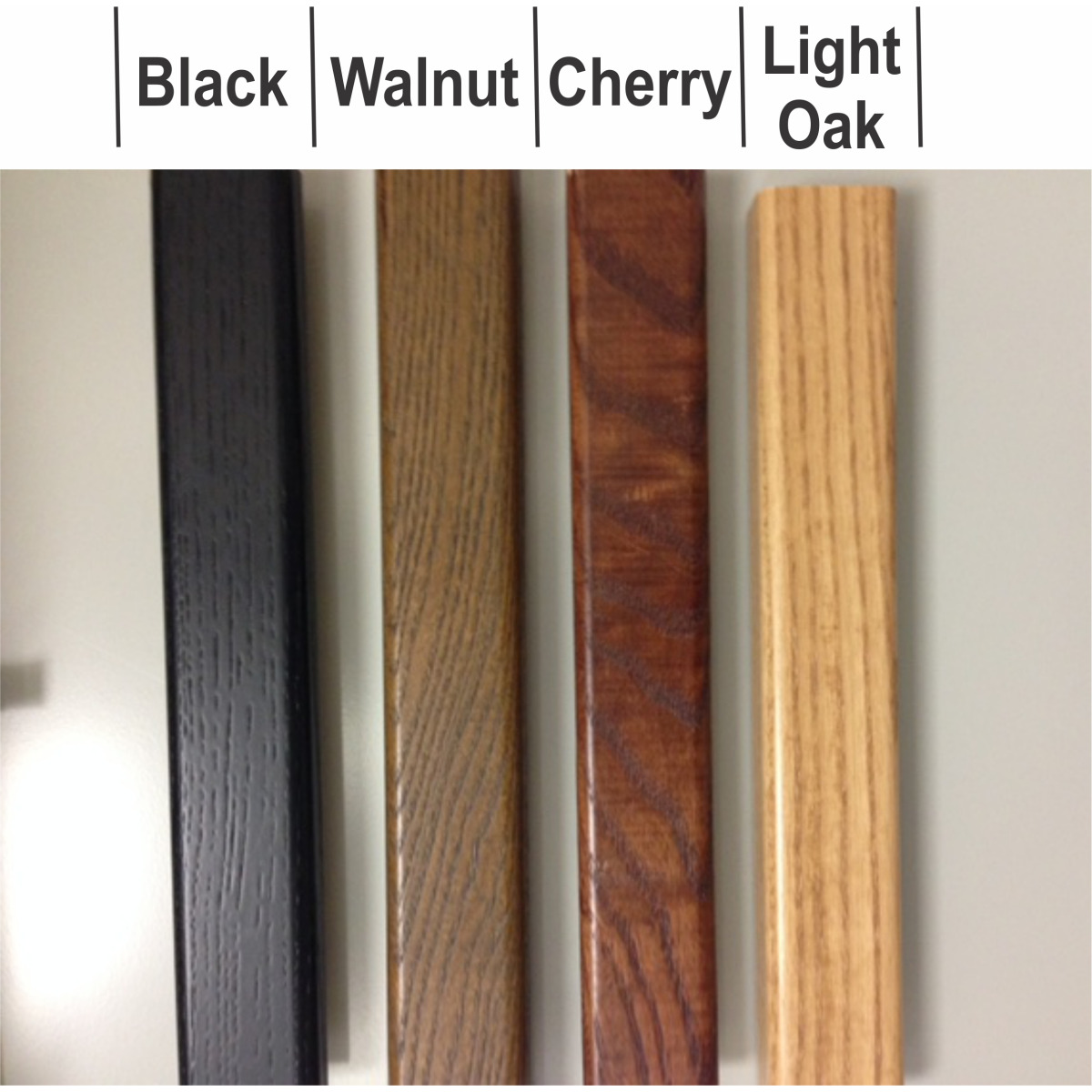 Wood Frames From Left: Black, Walnut, Cherry, Light Oak


Status Indicator Whiteboards
Sliding color signals display quick visual updates on a dry erase job status board
Red/Green indicators provide status at a glance 
Sliding indicators are easy and quick to update 
Customize the printable cards to list your status items - such as: 
Machine Status 
Checklist Items 
Equipment Use & Availability 
Safety Procedure 
Personnel Availability 
Quality Control Checks 
Job status board includes FREE Supply Kit - see Detailed Description below
NOTE: Aluminum frame is standard.  For a limited time, choose wood frame at checkout, in 4 color options, at no additional cost.
Custom Orders
Select Get A Quote next to the Part # below and fill out the form provided.
We will send you an email with a price quote.
You approve/revise and place your order.
Sizes & Pricing
Step2. Select Part # or GET A QUOTE to Continue
Step2. Select Board Size to Continue
* Price includes a Supply Kit of useful accessories
Additional Information
Detailed Description
Highly durable, dry erase surface on which to write in status comments 
Arrange the job status board to fit your needs 
Indicator bars are magnetic, stack them wherever you like 
Each bar includes both a Red/Green signal with sliding white cover and a c-channel card holder 
Next to the indicator bar is a writing space to provide notes regarding the status of that particular line item 
Indicator bars are a white plastic c-channel design with sliding plastic cover piece to reveal or cover one color (red or green background) 
Comments area can have one line per row, columns of lines, or your own design
This task whiteboard comes with a FREE kit of whiteboard supplies: 

Magnetic Status Indicator Bars 

1"x8.5" Datacards - white 

4 Dry Erase Markers - fine point 

Hanging or Rolling Assembly Hardware
Tech Specs
High quality magnetic whiteboard in an aluminum frame 
Intense heat permanently fuses your color graphics design with a sheet of solid steel to produce a highly durable, brilliant, dry-erase magnetic surface 
Our process produces a sturdy three-layer construction - the steel is laminated onto a rigid engineered wood foundation and backed with a sheet of aluminum foil as a protective moisture barrier 
WILL NOT STAIN, FADE, SHADOW OR CRACK 
No surface blemishes that are commonly seen on inferior whiteboards 
Our Polymer Fusion™ Process creates a long lasting, custom magnetic surface
Maintains its "like new" appearance throughout years and years of daily use 
This specialized process produces the most durable of any color printed whiteboard surface available in the market today! 
Construction is 0.022" coated sheet of solid steel laminated onto a rigid 3/8" MDF engineered wood foundation 
Service temperature range = -10F to +160F 
Task whiteboard made for indoor use 
Class C Fire rated 
Aluminum frame: Satin anodized extrusion of 6063 Aluminum-Magnesium-Silicon alloy which is extremely resistant to cracking and corrosion, framed board weighs 2.7 lbs per square foot, depth from board surface face to wall = 9/16" (14.3 mm)
Wood frame: color stained and sealed ash, framed board weighs 3.1 lbs per square foot, depth from board surface face to wall = 15/16" (23.8 mm)
Sliding indicators: White, high impact polystyrene (HIPS) plastic 
Minimum application temperature = +60F 
Service temperature range = 0F to +150F
Options
We will customize the task whiteboard design to best display your status indicators 
The writing space can be one long line, columns of shorter lines, or however you need it printed - it is made-to-order to your specs 
Column headers can be permanently printed for you or can be written in 
Use color text or add your company name or logo 
Additional Sliding Status Indicators - in addition to those provided in your Supply Kit
Additional Datacards inserts (9 colors) 
Indicator Bar with Adhesive Strip Backing - available for more permanent applications 
Grey Plastic C-channel Bars - replaces the standard white plastic indicators
Indicator Position - change to red left & green right, or indicator right & card holder left 
Other Indicator Background Colors in a choice of basic colors - white, black, blue; or fluorescent - yellow, orange, red, green 
Additional board sizes upon request, call for pricing 
Back
Sizes & Pricing
Step3. Select Part # or GET A QUOTE to Continue
Back to sizes