Back
Employee Communication Whiteboard
Paper grips organize schedules, sales data, product news & more
Caption goes here.




Employee Communication Whiteboard
Paper grips organize schedules, sales data, product news & more
Clearly organizes information for employees 
Each grip can hold ten 11" wide papers and has a slide-in header identification card to create your own information categories 
This employee communication board is very popular for use in restaurants, retail stores, service businesses - and almost any organization that needs to regularly communicate information to their staff 
This whiteboard with paper holder strips is ideal for communicating: 

Work schedules Job assignments Sales goals & results 

Product updates Production metrics Health & safety information 

Personnel notices Special offers & contests 

Management memos Suggestion ideas 

Includes FREE Supply Kit - see Detailed Description below
NOTE: Aluminum frame is standard.  For a limited time, choose wood frame at checkout, in 4 color options, at no additional cost.
Sizes & Pricing
Step 1:
Select Part # to Continue
Step 1:
Select Option to Continue
NOTE: Other board sizes, designs and paper grip configurations
are available - call for quote
* Price includes a Supply Kit of useful accessories
Additional Information
Detailed Description
Employee Communication Board Description :

Create a board layout to emphasize the information you want to communicate
Magnetic Grip-a-Strips are moveable, thus making the employee communication board very adaptable to organizing all your paper documents
The whiteboard has a dry-erase, highly durable surface for writing notes 
Price includes one or two logos in top corners, column sub-head text, and title header text of your choice - sample titles such as:

Employee Communication Center 

Company Information Board

Current News & Notes
Custom designs (lining, background watermarks, graphics, etc.) are also available
Employee Communication Center Description:

Grip-a-Strip document holders arranged on a magnetic whiteboard with space available to write on the dry-erase whiteboard surface 
Each paper grip has its own identification card with slide-in card holder, and can hold up to ten sheets 
Magnetic Grip-a-Strips can be arranged in various columns and rows to best organize and display your different information
Includes FREE kit of whiteboard supplies:

Magnetic Grip-a-Strips 1"x8-1/2"  
Datacards to identify each Grip-a-Strip,  
4 Dry-Erase markers - fine point  
Hanging Hardware
P/N 38RM780 - 4'Hx5'W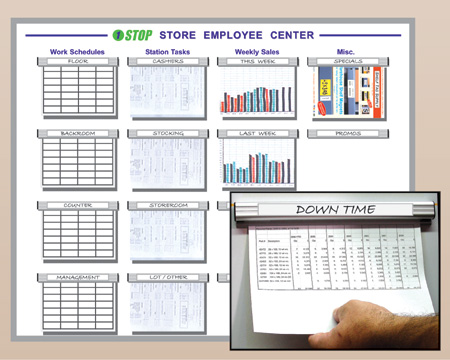 P/N 38RM770 - 4'Hx4'W, 12 grips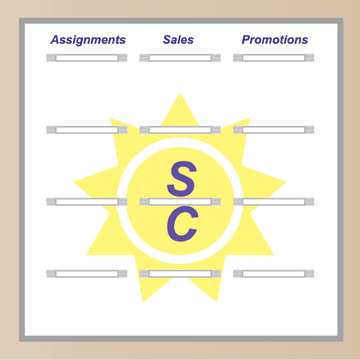 P/N 38RM780 - 4'Hx5'W, 16 grips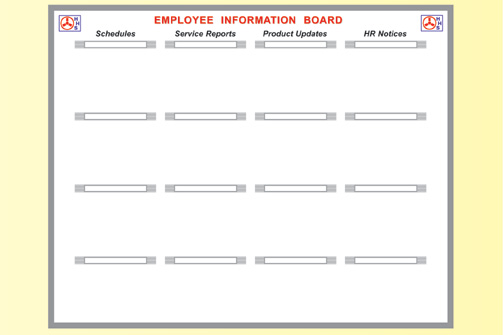 P/N 38RM790 - 4'Hx6'W, 20 grips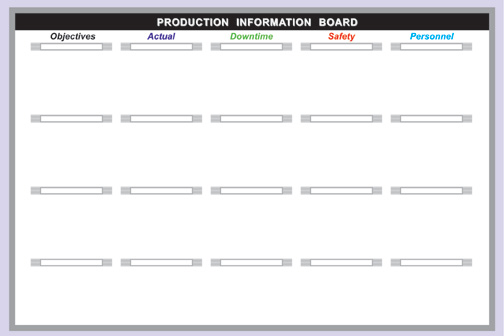 Grip-a-Strip paper holder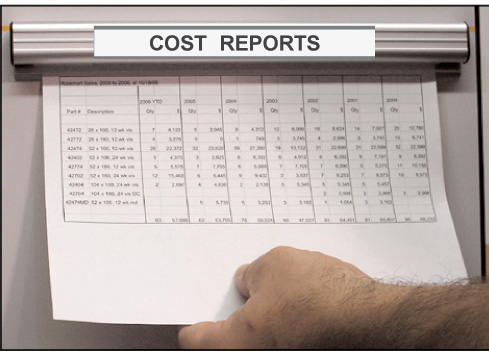 Tech Specs
High quality magnetic whiteboard in an aluminum frame 
Intense heat permanently fuses your color graphics design with a sheet of solid steel to produce a highly durable, brilliant, dry-erase magnetic surface 
Our process produces a sturdy three-layer construction - the steel is laminated onto a rigid engineered wood foundation and backed with a sheet of aluminum foil as a protective moisture barrier 
WILL NOT STAIN, FADE, SHADOW OR CRACK 
No surface blemishes that are commonly seen on inferior whiteboards 
Our Polymer Fusion™ Process creates a long lasting, custom magnetic surface
 Maintains its "like new" appearance throughout years and years of daily use 
This specialized process produces the most durable of any color printed whiteboard surface available in the market today! 
Construction is 0.022" coated sheet of solid steel laminated onto a rigid 3/8" MDF engineered wood foundation 
Service temperature range = -10F to +160F 
For indoor use 
Class C Fire rated 
Aluminum frame: Satin anodized extrusion of 6063 Aluminum-Magnesium-Silicon alloy which is extremely resistant to cracking and corrosion, framed board weighs 2.7 lbs per square foot, depth from board surface face to wall = 9/16" (14.3 mm)
Wood frame: color stained and sealed ash, framed board weighs 3.1 lbs per square foot, depth from board surface face to wall = 15/16" (23.8 mm)
Whiteboard with Paper Holder Options
This whiteboard with paper holder strips is also available in a sturdy, roll-around style (with wheel casters)
Additional Grip-a-Strips - see Grip-a-Strips for pricing
Whiteboard Tape, Letter Sets, Markers - see Whiteboard Supplies
Other board sizes or designs available - contact Customer Service
Back
Sizes & Pricing
Step 2:
Select Part # to continue
Back to sizes