Back
Training Room Whiteboards
Wood-framed whiteboards for meeting rooms
Caption goes here.



Training Room Whiteboards
Wood-framed whiteboards for meeting rooms
Presenters love the DISAPPEARING GRID LINES as writing guides! 
Your presentation whiteboard is the focal point of any training or meeting room 
Long lasting, dry-erase surface is also ideal in offices and conference rooms 
Choice of 4 attractive wood grain frame colors to complement most any decor - natural oak, walnut, cherry & black
Magnetic board can also accommodate a wide variety of magnetic accessories for use by teachers, instructors, coaches, trainers, managers and other leaders
 Our presentation whiteboards come with a FREE Supply Kit - see Detailed Description below.
NOTE: Wood frame is standard for this product.  Choose wood frame at checkout, in 4 color options, or opt for the traditional brushed aluminum frame.
Sizes & Pricing
Step 1:
Select Part # to Continue
Step 1:
Select Option to Continue
* Select color: natural oak, walnut, cherry or black
** Price includes a Supply Kit of useful accessories
Additional Information
Detailed Description
Lightly tinted, 1" square grid pattern is only visible up close 
Faint lines provide convenient background to keep writing straight & line drawing easy 
Grid "disappears" at about 8-10' back for clear viewing of your board content
 FREE color logo and company name header included! 
Graphics of your logo or other symbol (you provide the image file) 
Color title header of your choice - organization, division, team, class, department
FREE name header, FREE full color logo 
This wood-framed presentation whiteboard includes a FREE kit of whiteboard supplies: 

4 Dry Erase Markers - red, blue, green, black 
Tech Specs
Sturdy three-layer construction with a long lasting, dry-erase compatible surface in a wood frame 
Our Polymer Fusion™ Process embeds your color custom graphics directly into our polymer surface to produce a brilliant, highly durable, magnetic whiteboard
Intense heat permanently fuses color designs with a sheet of solid steel to produce a highly durable, brilliant, dry-erase board surface 
Your custom presentation whiteboard keeps its "like new" appearance throughout years and years of continual use
Options
Our wood-framed whiteboards come in 4 attractive wood grain colors:
Oak, Walnut, Cherry & black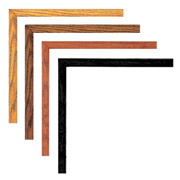 1-1/2" wide wood framing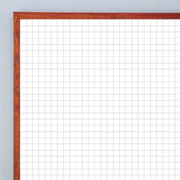 Grid "disappears" 
Our Review of Your Design 
FOR ORDERS & QUOTES: click on the desired blue part number above and complete your request. You will be then prompted to attach your file NOW or to receive an email to submit your file LATER. 
WITH NO ORDER OR QUOTE: to confirm your design or data file is usable or for assistance in selecting the best size or style - Upload Your File Now for our review and acceptance. We will respond by the next business day. 
Other Meeting Room Whiteboard Styles
Back
Sizes & Pricing
Step 2:
Select Part # to continue
Back to sizes