Back
Staff Scheduler Lift-Out Whiteboards
Rotate panels to display two weekly work schedules in sequence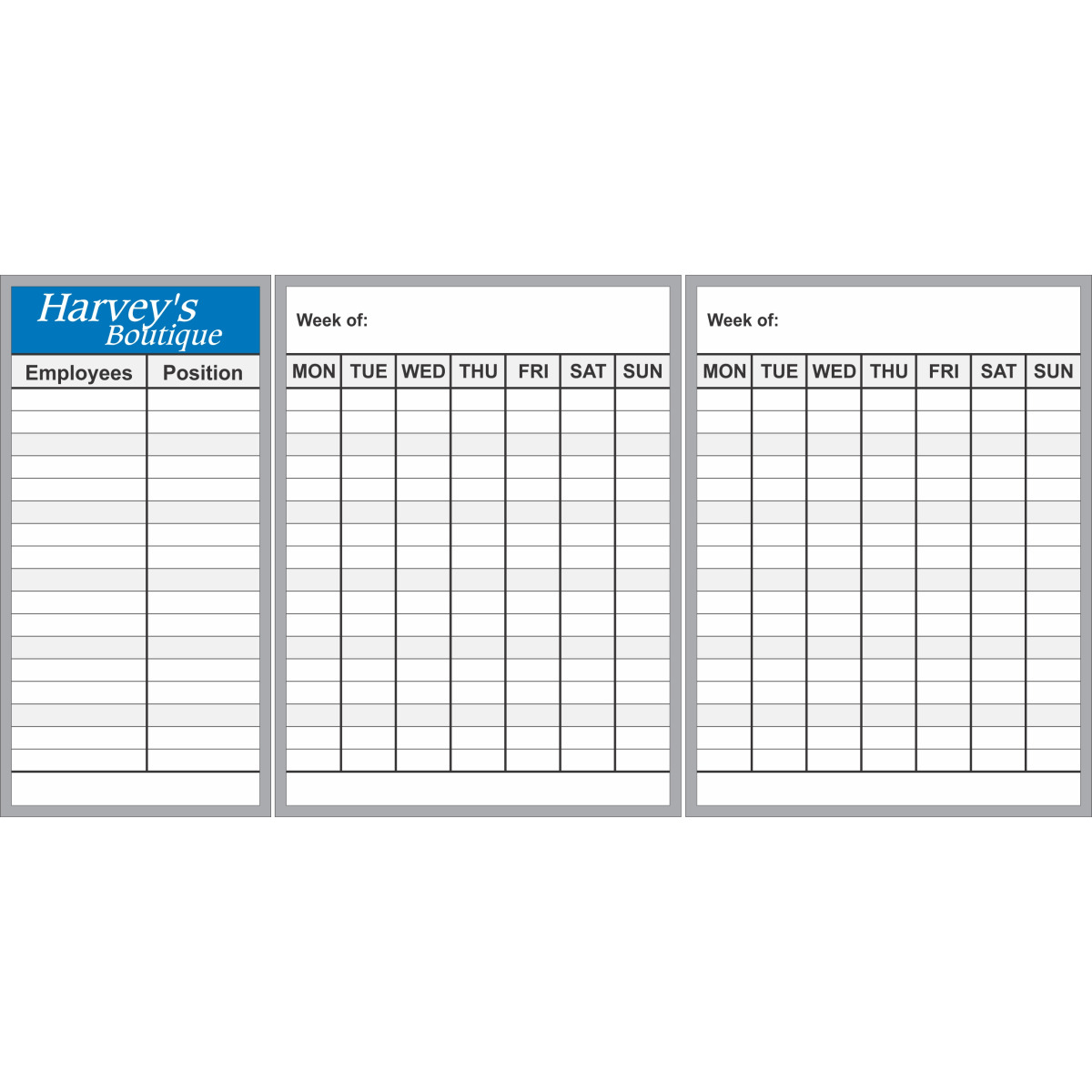 Pictured: P/N 38RG322 - 2 week+roster

Staff Scheduler Lift-Out Whiteboards
Rotate panels to display two weekly work schedules in sequence
Ideal tool for communicating work schedules for this week and upcoming week(s)
Our Lift-Out Magnetic Scheduling Board rotates panels every week
The leftmost panel (stationary) lists all employees, then the next panels (rotating) are 7-day work week schedules 
Upon completion of a week (leftmost weekly panel), erase that panel, lift out and place at right to enter a new week of scheduling 
Additional weekly panels can be added to schedule out 3, 4, 5 weeks or more
Work schedule board includes FREE Supply Kit - see Detailed Description below
Sizes & Pricing
Step 1:
Select System Duration
Step 2:
Select Part # to Continue
Step 2:
Select Option to Continue
# of Empl.*
Panel Height H"
System with Kit
Part #
Price
17
24
38RG322
$518.00
29
36
38RG522
$636.00
41
48
38RG722
$742.20
# of Empl.*
Panel Height H"
System with Kit
Part #
Price
17
24
38RG323
$695.00
29
36
38RG523
$842.50
41
48
38RG723
$990.00
# of Empl.*
Panel Height H"
System with Kit
Part #
Price
17
24
38RG324
$872.00
29
36
38RG524
$1,049.00
41
48
38RG724
$1,226.00
NOTE: Staff panel (leftmost) is 12" W and each weekly schedule panel is 18" W
Other board heights and widths are available, call for more information

* Price of magnetic scheduling board includes a Supply Kit of helpful accessories
** Each employee row has a 1 " height - the row height size can be changed to
accommodate other employee roster quantities
Additional Information
Detailed Description
Select dry erase in-out board height for the number of employees to be scheduled (# of rows) and then the number of panels for the weeks to be scheduled out
Update and rotate - easy and always current 
The roster panel (which does not need to rotate) can be organized by employee position, alphabetical by name, department or whatever criteria you like 
Names are written on Damp-Erase Magnets such that they do not need to be re-written each week, but can be easily moved from one line to another 
Upon completion of a week (leftmost weekly panel), erase that panel, lift out and place at right to enter a new week of scheduling 
Additional weekly panels can be added to schedule out 3, 4, 5 weeks or more 
The non-rotating, 12" wide left panel lists all employees to be scheduled - one 1 " height row per person 
Choice of panel heights to accommodate your number of employees to schedule
Each rotating weekly panel is 18" wide, select the number of weeks (panels) needed to be displayed 
Top and bottom mounting track included for total width of all panels (customer is responsible for drilling holes and mounting track to wall) 
Includes FREE kit of whiteboard supplies: 

1"x6" Damp-Erase Magnets - white, silver, yellow, ivory 

4 Dry-Erase Markers - fine point black 

Top & Bottom Mounting Track - length is 12" + 18" x # of weekly panels ordered
Tech Specs
High quality magnetic whiteboard in an aluminum frame 
Intense heat permanently fuses your color graphics design with a sheet of solid steel to produce a highly durable, brilliant, dry-erase magnetic surface 
Our process produces a sturdy three-layer construction - the steel is laminated onto a rigid engineered wood foundation and backed with a sheet of aluminum foil as a protective moisture barrier 
WILL NOT STAIN, FADE, SHADOW OR CRACK 
No surface blemishes that are commonly seen on inferior whiteboards 
Our Polymer Fusion™ Process creates a long lasting, custom magnetic surface
 Maintains its "like new" appearance throughout years and years of daily use 
This specialized process produces the most durable of any color printed whiteboard surface available in the market today! 
Construction is 0.022" coated sheet of solid steel laminated onto a rigid 3/8" MDF engineered wood foundation 
Service temperature range = -10F to +160F 
For indoor use 
Class C Fire rated 
Aluminum frame: Satin anodized extrusion of 6063 Aluminum-Magnesium-Silicon alloy which is extremely resistant to cracking and corrosion, framed board weighs 2.7 lbs per square foot, depth from board surface face to wall = 9/16" (14.3 mm)
Wood frame: color stained and sealed ash, framed board weighs 3.1 lbs per square foot, depth from board surface face to wall = 15/16" (23.8 mm)
Options
We will create your dry erase in-out board for your management needs 
FREE DESIGN CUSTOMIZATION to your specs 
Change number or height of employee rows 
Change the number of day columns (ex: from 7 day work week to 5) 
Change shaded row color, add a company name or color logo 
We design the board to best address your employee staffing requirements -- simply tell us (call, email or fax) what you would like when you order 
Order as many weekly panels as you need to schedule out (not limited to 4)
Extra mounting track - P/N 90455, $8.00/ft (includes top and bottom) 
Custom graphics, sizes and designs - contact Customer Service 
Whiteboard eraser and additional whiteboard supplies - see Whiteboard Supplies
Magnetic letters, numbers, symbols, chalktray, clips - see Magnetic Accessories
Our Review of Your Design
FOR ORDERS & QUOTES: click on the desired blue part number above and complete your request. You will be then prompted to attach your file NOW or to receive an email to submit your file LATER. 
WITH NO ORDER OR QUOTE: to confirm your design or data file is usable or for assistance in selecting the best size or style - Upload Your File Now for our review and acceptance. We will respond by the next business day. 
Back
Sizes & Pricing
Step 3:
Select Part # to continue
Back to sizes