Back
T-Card Slot Holders
Slotted white plastic louvers to hold T-cards
Caption goes here.




T-Card Slot Holders
Slotted white plastic louvers to hold T-cards
Magnetic T-Card Slot Holders have a magnetic back 4-3/8"W x 11"H plastic with 1" spaced slots 
A column of T-cards requires one Base section (6 slots) at the bottom and then as many Add-on sections (11 slots) above it as you need 
Choice of five colors: white, yellow, red, green, blue 
Use this T-Card holder with systems for Kanban, job status, suggestion tracking, issues/problems, and other lean manufacturing techniques
NOTE: Glass boards are not standard whiteboards and require only special rare earth neodymium magnets.  While our magnets are strong and stick well to standard magnetic whiteboards and solid steel surfaces, our magnets do not work on glass boards.
Sizes & Pricing
Step 2:
Select Part # to Continue
Step 2:
Select Option to Continue
* Each column requires a Base and at least one Add-on section

Additional Information
Detailed Description
4-3/8"Wx11"H holder constructed of sturdy plastic 
Back side has two magnetic strips for secure adherence to magnetic whiteboards or steel surfaces 
The louver slot holes are spaced 1" apart and hold 3-1/8"Wx5"H standard T-cards
Base section has 6 slot holes and Add-on section has 11 slot holes
Tech Specs
T-Card holders have 1" spaced slots constructed of 0.04" thick styrene plastic in white, green, yellow, red and blue 
Service temperature range = -10F to +150F
Options
For permanent use, adhesive backing styles are also available - contact Customer Service and request part # 90711A or 90712A, $6.00 ea. 
T-Card rack system with 5/8 " slot spacing also available as a special order - contact Customer Service
Base Section

Bottom unit - 6 slots
Add-on Section

Above unit - 11 slots
Column Groupings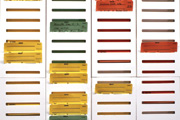 Multiple stacked units
Back
Sizes & Pricing
Step 3:
Select Part # to continue
Back to sizes