Back
Car Rental T-Card Whiteboard
Easily track and check availability of rental vehicles with this car rental tracker
Caption goes here.



Car Rental T-Card Whiteboard
Easily track and check availability of rental vehicles with this car rental tracker
Schedule reservations of car or truck rentals on a convenient T-card rental tracker board
Eliminate "over-booking" reservations 
Check vehicle availability at a quick glance 
Use in almost any automobile renting or vehicle leasing business or car dealership 
Easily create your own layout design with our magnetic T-card slot holders 
This car rental tracking system includes a FREE Supply Kit - see Detailed Description below
NOTE: Aluminum frame is standard.  For a limited time, choose wood frame at checkout, in 4 color options, at no additional cost.
Sizes & Pricing
Step 1:
Select Part # to Continue
Step 1:
Select Option to Continue
Additional Information
Detailed Description
Select the appropriate board size based upon the maximum number of vehicles you can inventory at any given time
White plastic, magnetic T-card holders are securely placed on the board surface 
You define your own column headers on cards in holders (ex: model type) 
T-card rental tracker board kit is ideal for convenient control of vehicle scheduling  
Easy reference to the reservation information on any car or truck available 
Each T-card can contain whatever information you want to provide: (ex: Model, Year, Color, Customer Name, Date Out, Date Due In) 
Cards can be color coordinated and each column has a card holder header to organize the stock by vehicle class, year or any other distinction you choose 
The rental tracker board picture above groups the reserved vehicles at the top of each column and the available units at the bottom - the organization of vehicles is your choice 
This car rental tracking system comes with a FREE kit of whiteboard supplies:

Card holders and white cards for column headers 
White plastic, magnetic T-card holders with 1" slot spacing 
Laser T-cards - 8 colors (plain or pre-printed - see Options below) 
Hanging Hardware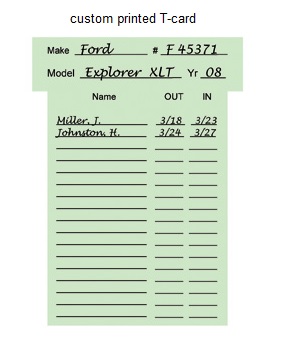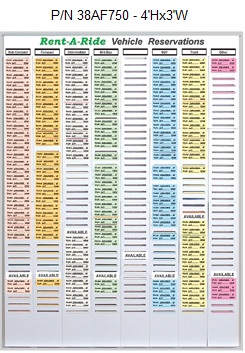 Tech Specs
High quality magnetic whiteboard in an aluminum frame 
Intense heat permanently fuses your color graphics design with a sheet of solid steel to produce a highly durable, brilliant, dry-erase magnetic surface 
Our process produces a sturdy three-layer construction - the steel is laminated onto a rigid engineered wood foundation and backed with a sheet of aluminum foil as a protective moisture barrier 
WILL NOT STAIN, FADE, SHADOW OR CRACK 
No surface blemishes that are commonly seen on inferior whiteboards 
Our Polymer Fusion™ Process creates a long lasting, custom magnetic surface 
Maintains its "like new" appearance throughout years and years of daily use 
This specialized process produces the most durable of any color printed whiteboard surface available in the market today! 
Construction is 0.022" coated sheet of solid steel laminated onto a rigid 3/8" MDF engineered wood foundation 
Service temperature range = -10F to +160F
Our car rental tracking system is designed for indoor use  
Class C Fire rated 
Aluminum frame: 

Satin anodized extrusion of 6063 Aluminum-Magnesium-Silicon alloy which is extremely resistant to cracking and corrosion, framed board weighs 2.7 lbs per square foot, depth from board surface face to wall = 9/16" (14.3 mm) 

Wood frame: 

color stained and sealed ash, framed board weighs 3.1 lbs per square foot, depth from board surface face to wall = 15/16" (23.8 mm)
Options
We will customize the rental reservation system design to your needs
FREE DESIGN CUSTOMIZATION to your specs
Create new column headings with the card holders
Change title color(s) or add your company name or logo
We create a board to suit your auto dealership or shop organized - simply tell us (call, email or fax) what you would like when you order 
Available in a rolling whiteboard style - contact Customer Service for pricing 
T-card holders also available in other colors (at no extra charge) 
T-cards can be pre-printed with your text such that all you have to do is "fill in the blanks" to add a new vehicle - pack of 200 T-cards printed on one side or printed on both sides T-cards
Additional sizes and custom designs - contact Customer Service for quote
Back
Sizes & Pricing
Step 2:
Select Part # to continue
# of Slots (Vehicles)
224
Board Size H' x W'
3' x 3'
Slots x Columns
28 x 8
T-Cards Included
300
Ships Via
UPS
Board with Kit
Part #
38AF550N
Price/Ea
$366.58
# of Slots (Vehicles)
312
Board Size H' x W'
4' x 3'
Slots x Columns
39 x 8
T-Cards Included
400
Ships Via
UPS
Board with Kit
Part #
38AF750N
Price/Ea
$480.74
# of Slots (Vehicles)
429
Board Size H' x W'
4' x 4'
Slots x Columns
39 x 11
T-Cards Included
500
Ships Via
Truck
Board with Kit
Part #
38AF770N
Price/Ea
$632.96
Back to sizes