Back
Rolling Whiteboards
Sturdy, roll-around, double-sided, custom magnetic whiteboard on wheels
Caption goes here.




Rolling Whiteboards
Sturdy, roll-around, double-sided, custom magnetic whiteboard on wheels
Highly durable, whiteboard on wheels in a rugged, industrial strength frame 
This two-sided whiteboard has a long lasting, magnetic, dry-erase board surface
Attractive and durable, our double-sided rolling whiteboard units have "T-slot" framing constructed from heavy-duty, high strength aluminum alloy  
 Each double-sided dry erase board rolls on 4 wheels (casters) for easy moving and has a convenient compact chalk tray to hold your bulletin board supplies or whiteboard accessories 
Our double-sided whiteboard on wheels includes a FREE Supply Kit - see Detailed Description below
Sizes & Pricing
Step 2:
Select Part # to Continue
Step 2:
Select Option to Continue
* Custom designs have a magnetic, full color, highly durable, Polymer Fusion™ surface

NOTES:
1. Other configurations available - design your options including the position (left or right side)
2. Select a configuration, add options, call for a quote; or sketch a design, fax it to us for a quote
Additional Information
Detailed Description
Custom printed or plain board can be located right in the needed work area
 Versatile two-sided whiteboard is popular in work cells, meeting areas, employee entrances, and other locations to effectively communicate job related or performance information
Display schedules, metrics tracking, charts, graphs, project notes and more 
Bulletin boards and cabinets can also be configured into your versatile unit 
Our free standing, Rolling Whiteboard frame allows you to design a two-sided system using virtually any combination of our visual display products: 
Roll-around frame system can include virtually any combination of our board products: 

Magnetic Whiteboards - plain, lined, gridded, etc. 

Custom Whiteboards - custom made 

Bulletin Boards - high quality, resilient cork 

Cabinet Boards - clear door enclosure 

Includes FREE kit of whiteboard supplies: 

Legs & Rolling Assembly Hardware
Tech Specs
Standard overall size is 76"H x 30"D with non-pivoting frame and casters (rollers)
 Non-pivoting dry erase board on caster wheels is framed in a standard 45mm square 10mm T-slots, high strength, aluminum alloy structure 
Whiteboard construction is 0.022" coated sheet of solid steel laminated onto a rigid 1/4" hardboard foundation 
Service temperature range = -10F to +160F 
For indoor use 
Class C Fire rated 
Aluminum frame: 

High strength, satin anodized aluminum alloy in an industry standard 45mm square with 10mmT-slot design Locking caster sets are load rated to support at least double the weight of the board assembly for ease of rolling and safety.  Framed, double sided board weighs 4.1 lbs per square foot.  Leg assembly will add an additional shipping weight of 16 lbs for 3' high boards and 14 lbs for 4'high boards. 
Options
Examples: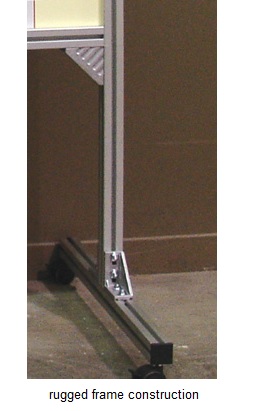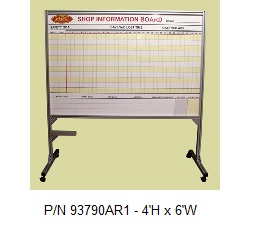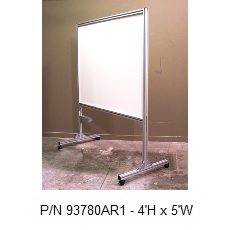 Back
Sizes & Pricing
Step 3:
Select Part # to continue
Back to sizes