Back
Warehouse Locator System Kit
Organize and quickly locate stock, pallets, open storage and more
Caption goes here.




Warehouse Locator System Kit
Organize and quickly locate stock, pallets, open storage and more
Communicates open storage, stock locations, stock depletion, reserve space
Magnetic Stock Locators with channel hold cards listing stock number, product name and warehouse location
At each stock location (rack, pallet, shelf, floor space) a corresponding clear vinyl Location Pouch holds card tags for that location and the stock currently stored there
The pouches are adhesive backed since they remain at that space
Grid pattern background
For more information, see the 'How the System Works' section below
Our inventory locator includes a FREE Supply Kit - see Detailed Description below
NOTE: Aluminum frame is standard.  For a limited time, choose wood frame at checkout, in 4 color options, at no additional cost.
Sizes & Pricing
Step 1:
Select Part # to Continue
Step 1:
Select Option to Continue
Stock Locator Capacity
Board Size H' x W'
# Stock Locators Included
# Location Pouches Included
# Stock & Location Tags Included
Ships Via
System with Kit
Part #
Price
90
2' x 3'
50
75 (150 - 2 per location)
1000
UPS
22350
$506.11
275
3' x 4'
125
150 (300 - 2 per location)
2500
Truck
22570
$875.27
435
4' x 6'
225
250 (500 - 2 per location)
4500
Truck
22790
$1,439.75
600
4' x 8'
300
325 (650 - 2 per location)
6000
Truck
22701
$1,845.67
* Price includes a Supply Kit of useful accessories
Additional Information
Detailed Description
Warehouse Locator System Applications

Receiving, staging and shipping areas of material handling and storage facilities
Material and product holding areas for manufacturers
Create a board design for your inventory locating requirements

Grid pattern background on surface to position Magnetic Card Holders and pouches
Change placement of lines
Define your own row designations (leftmost column) and column headers
Displayed on a high quality, dry erase, magnetic whiteboard
Inventory locator boards include hidden hanger slots on back
Our inventory locator includes a FREE kit of whiteboard supplies:

Stock & Part Locators - magnetic, clear vinyl pouches
Location Pouches - adhesive, clear vinyl
Location Tags - white and yellow datacards
Adhesive Letter Set - column headings
Charting Tape - align placement of tags and pouches
Hanging Hardware
How the Inventory Locator System Works:

The inventory board system uses magnetic Stock Locators with a sliding channel to hold tags for the stock number/name information and tags for the warehouse location code where the stock is to be stored. These magnetic Stock Locators are arranged either numerically or alphabetically on the Warehouse Locator Board.  
If you have not already done so, each warehouse storage location needs to be numbered with a code that makes it easy to identify that location, ex: A2B4A for Building A, Area 2, Rack B, Section 4, Level A.
A map of the warehouse showing all these location codes is very helpful and can be mounted next to the board for quickly finding locations.  
At each work location (pallet rack, bulk shelving, bin location, floor location, etc.), a corresponding clear vinyl, adhesive backed Location Pouch holds tags for the location code and the stock number currently stored there.
Take packing list to board, match stock number, find Part Locator for that stock number
If there is a location already assigned, flip Location Tag over such that the location is shown on the Part Locator  Otherwise, assign a new location from open locations
Remove a Stock Tag from the Part Locator, place in Location Pouch at the storage location while storing the item being stocked there
Find stock number on board and determine storage location
Consult warehouse map to determine exact location if necessary
Remove stock (as an option, write quantity removed on the Stock Tag)
Find stock number on board and determine storage location
Consult warehouse map to determine exact location if necessary 
Remove last of stock and remove Stock Tag
Take Stock Tag and place back in Part Locator
Flip Location Tag on the Part Locator over to blank side
Includes Supply Kit: 

3/4" Adhesive Letter Set - black
3/4"x3" Clear Pouch Card Holders
1"x3" Datacards - white, yellow
1"x6" Write-on/Wipe-off Magnets - white
1/16" Charting Tape roll - black
Hanging Hardware
Tech Specs
High quality magnetic whiteboard in an aluminum frame
Intense heat permanently fuses your color graphics design with a sheet of solid steel to produce a highly durable, brilliant, dry-erase magnetic surface 
Our process produces a sturdy three-layer construction - the steel is laminated onto a rigid engineered wood foundation and backed with a sheet of aluminum foil as a protective moisture barrier 
WILL NOT STAIN, FADE, SHADOW OR CRACK 
No surface blemishes that are commonly seen on inferior whiteboards
Our Polymer Fusion™ Process creates a long lasting, custom magnetic surface 
Maintains its "like new" appearance throughout years and years of daily use 
This specialized process produces the most durable of any color printed whiteboard surface available in the market today! 
Construction is 0.022" coated sheet of solid steel laminated onto a rigid 3/8" MDF engineered wood foundation Service temperature range = -10F to +160F 
For indoor use 
Class C Fire rated 
Aluminum frame: 

Satin anodized extrusion of 6063 Aluminum-Magnesium-Silicon alloy which is extremely resistant to cracking and corrosion
Framed board weighs 2.7 lbs per square foot
Depth from board surface face to wall = 9/16" (14.3 mm) 

Wood frame: 

color stained and sealed ash
Framed board weighs 3.1 lbs per square foot
Depth from board surface face to wall = 15/16" (23.8 mm)
Options
Custom sizes, graphics and designs - contact Customer Service for quote 
Additional Stock Locator - 1"x6", holds 2 tags, magnetic, P/N 22001, $40/pkg 25 
Additional Location Pouch - 2"x3", holds 2 tags, adhesive, P/N 22011, $20/pkg 25 
Additional Location Pouch - 2"x3", holds 2 tags, magnetic, P/N 22021, $55/pkg 25 
Additional Location Pouch - 1"x6", holds 2 tags, adhesive, P/N 22010, $20/pkg 25 
Additional Location Pouch - 1"x6", holds 2 tags, magnetic P/N 22020, $55/pkg 25 
Additional Laser Tag - 1"x3", specify color if not white, P/N 90324L, $15/pkg 520 tags 
Lining tape, letter/number sets, additional markers - see Whiteboard Supplies 
Additional magnets, card holders, clips - see Other Magnetic Accessories
NOTE - adhesive Location Pouches are supplied as 1" x3" pouches and you use two for each location
Warehouse Locator System Components
Location Pouch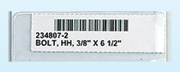 1"x3" adhesive with card
Part Locator

1"x6" magnetic with card
Back
Sizes & Pricing
Step 2:
Select Part # to continue
Back to sizes